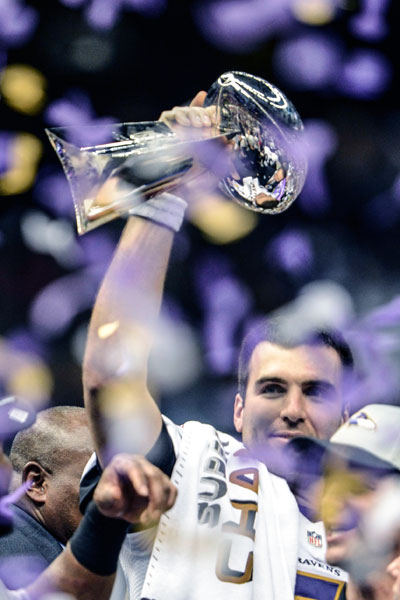 Way to go Joe. Congratulations, not only on the Super Bowl, but on winning the prestigious MVP award in that game. It's truly an honor. Basically, you're the best of the best.
Ok, got that out of the way. Much like how saying "no offense" allows you to say anything afterwards, I'm using that congratulations as a way to deflect any anger that you may feel when I say the following: I'm getting sick of seeing Quarterbacks take home all the MVP awards.
I'm not an idiot (although a smart person would put that sentence in the paragraph that you can see on the homepage). I know that AD just took home the league MVP. AD the RB is the NFL MVP. He's not a QB. But I'm going to talk more specifically about the Super Bowl MVP awards.
Can you guess what percentage of all Super Bowl MVPs are Quarterbacks? Just over 50%. But in the last 10 years, that number has risen to 70%, and that's the trend that I don't like. The three non QBs to take home the award? Deion Branch (WR 2005), Hines Ward (WR 2006), and Santonio Holmes (WR 2009).
It's easy to give the MVP award to a Quarterback. He's the guy that passes the ball, and in a pass happy league, there you have it. You can eliminate 99% of all Running Backs, because they aren't Adrian Peterson. You can eliminate all Defensive players unless they have an ungodly, 6 sack, 3 int game, because no one cares about D anymore. And unless you take back a Kickoff, you won't win it as a returner. I mean, you'd have to take one back for 108 yards, and then maybe get like a receiving TD and 56 yards for that to happen….
It's easy to give it to a QB, because what he does is obvious. You can look at the yards, the completions, the TDs and INTs, and you can say "yup, give it to him". Because there really aren't intangibles when it comes to QBs. There aren't plays that they contribute to in un-obvious ways. They aren't going to make plays that you can't see. Their position is inherently obvious. It's the reason that linemen will never win the award. They're incredibly important, and they can keep an amazing defensive talent at bay all night, but no one really cares. It's not obvious.
So what about Jacoby Jones? Should we talk about him? Yes we should. 108 yard kickoff return, and an amazing TD reception for 56 yards. That's his whole stat sheet. And that's the problem. Maybe he could have won the award if he took back 3 kicks, or had 3 more TDs. But he didn't. That doesn't make what he did any less impressive. He had half the team's Touchdowns (41% of their points). He made those points in impressive fashion. But he still has a short stat line. They don't keep track of the number of times he sucked a Safety or Corner away from a teammate, allowing them to get open. There's no stat for how many times he had important, or even average blocks. So he won't win the award.
This isn't me getting on a pulpit and slinging it for Jones (despite what it sounds like). I'm trying to get at the bigger point here. The point is, it's damn hard to win this award if you aren't a QB. The last 4 have been. I'm not trying to downplay Quarterback play. Flacco had a great game. This isn't about him either. I'm just a little worried about the fact that it seems almost automatic now that the QB will get the award, excepting a super human, herculean game from a skill position player.
I don't think this phenomena is giong anywhere, and in the defense of voters everywhere, it will always be difficult to give an individual award in a team sport. But I'd like to see a little more diversity, and maybe a little more thought given to the award (like maybe not giving it away the same night the game is played).